on Thu Oct 08, 2015 6:43 pm
Message reputation : 100% (1 vote)
Designer:  Whalebite
Original Creator: Hendrix
Requires: ZT2, Possibly European Hamster (European Expeditions by Hendrix)
Public Domain:  unspecified
Language:  German
Bugs:
Description: A small mammal related to rabbits.
Screenshot: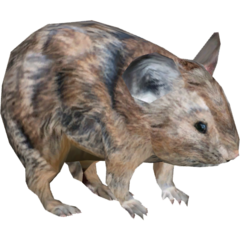 Updated version:
Download Link:
http://www.mediafire.com/download/3vghgcowo4g5wwh/zzzzz-Ochotona_princeps.z2f
Updated Version:
http://www.mediafire.com/file/t9lua62ydkerxtu/zzzz-Ochotona_princeps.z2f
Hashtags:
#American
#Pika
on Sun May 15, 2016 12:03 am
Message reputation : 100% (1 vote)
The download link has been replaced and an updated version is also available.
on Tue Oct 10, 2017 7:00 pm
The download link to the updated version has been replaced.

Permissions in this forum:
You
cannot
reply to topics in this forum