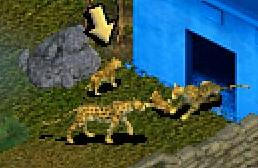 Creator/Designer/Author:JohnRN1
Original Creator: JohnRN1
Date:08-27--11
Updated: N/A
Category:Real Animals
Language: English
Bugs/Information/Notes: No warnings or errors found.
Requirements: ZT1 or ZTCC
Location: Non-Exclusive
==============================
Sri Lankan Leopard description:
Minimum happiness needed for chance of breeding: 90.
Liked foliage:
Llala Palm Tree, Fern Bush (DD), Rainforest Bush, Fallen Rainforest Tree (ES)
Williamsonia Tree (DD), Mangrove Tree, Rainforest Stump (ES), Rafflesia (ES)
Fern Bush (DD), Durian Tree (ES)
Liked rock:
Large Rock, Small Rock - Medium, Stone Ruins, Small Rock - Small
Mossy Rainforest Rock (ES)
Animal can jump. Animal can climb cliff.
Number of animals allowed per exhibit: 1-4 with 35 squares each.
A suitable exhibit for 2 of this animal has 70 squares containing terrain of:
43 Rainforest Floor, 4 Sand, 4 Dirt, 4 Grass, 4 Brown Stone, 4 Gray Stone
7 Fresh Water
using 11 grid squares filled with 4 Llala Palm Tree most liked plant
and using 22 Small Rock - Small most liked rock.
Preferred shelter: Rock Cave.
Other liked items:
Waterfall Rock, Cat Climbing Tree, Small Lion Rock, Large Lion Rock
Download here:
http://www.mediafire.com/?6td4dc105sasm4b