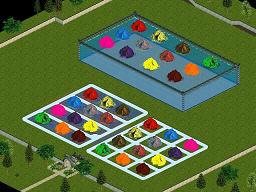 Thank you for downloading the Colorful Isle Rocks.
There are 12 different colors. Use this combined ztd
to put all 12 colors in your purchase menu.The 12
colors are: Fiery Red, Green, Blue, Yellow, Rustic
yellow, pink, rustic pink, purple, orange, brown, Gold
and Multicolor. Enjoy.
"Move the .ztd file into the dlupdate (and not
dupdate) folder if one exists in your Zoo Tycoon
folder; otherwise move the .ztd file into the Updates
folder that is in the Zoo Tycoon folder."
The default is C:\Program Files\Microsoft Games\Zoo
Tycoon
Thank you to Fern and Jay for their invaluable
encouragement, guidance, and expertise. And, thanks to
in the game testers at DD.
--JohnT--
Creator/Designer/Author: JohnT
Original Creator: JohnT, recoloring of in game isle rock.
Date: 02 July 2011
Updated: N/A
Category: Scenery
Language: English
Bugs/Information/Notes: No warnings or errors found.
Requirements: ZT1 all versions.
Location: Non-Exclusive

Download Link:
http://www.mediafire.com/?d9t75c8njr8t3f7