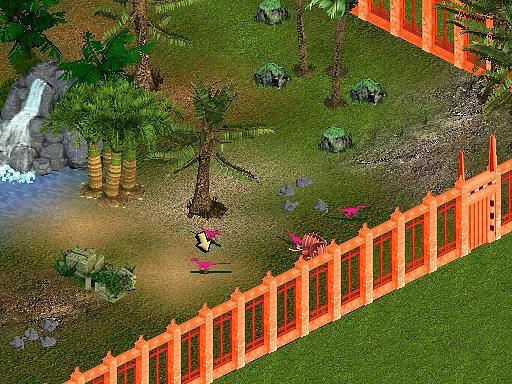 Thank you for downloading the Buitreraptor. This
beautifully colored dino will add color to your
prehistoric exhibits.
"Move the .ztd file into the dlupdate (and not
dupdate) folder if one exists in your Zoo Tycoon
folder; otherwise move the .ztd file into the Updates
folder that is in the Zoo Tycoon folder."
The default is C:\Program Files\Microsoft Games\Zoo
Tycoon
Thank you to Fern and Jay for their invaluable
encouragement guidance, and expertise. And, thanks to
Caddie and Pukkie, in game testers at DD.
--JohnT--
Creator/Designer/Author: JohnT
Original Creator: JohnT Recoloring of in game Velociraptor.
Date: 01 July 2011
Updated: N/A
Category: extinct dinosaurs, fantasy
Language: English
Size : 1.94 MB
Bugs/Information/Notes: No warnings or errors found.
Requirements: DD and CC
Description : This beautifully colored dino will add
color to your prehistoric exhibits.
Location: Non-Exclusive
Buitreraptor description:
Cannot be used in original Zoo Tycoon: cKeeperFoodType
(7) is not 0 to 5.
Minimum happiness needed for chance of breeding: 90.
Liked foliage:
Lodgepole Pine Tree, Spruce Tree, Yellow Cedar Tree,
Western Red Cedar Tree
Williamsonia Tree (DD), Rainforest Fern, Rainforest
Bush, Llala Palm Tree
Fern Bush (DD), Fallen Rainforest Tree (ES),
Rainforest Stump (ES)
Durian Tree (ES), Norfolk Island Pine Tree (DD), Dawn
Redwood Tree (DD)
Liked rock:
Large Rock, Small Rock - Medium, Small Rock - Small,
Stone Ruins
Rainforest Rock, Mossy Rainforest Rock (ES)
Animal can jump. Animal can climb cliff.
Number of animals allowed per exhibit: 1-5 with 80
squares each.
A suitable exhibit for 2 of this animal has 160
squares containing terrain of:
96 Rainforest Floor, 8 Sand, 8 Dirt, 16 Grass, 8
Brown Stone, 8 Gray Stone
8 Gravel, 8 Fresh Water
using 13 Williamsonia Tree (DD) most liked plant
and using 38 Small Rock - Small most liked rock.
Of the 160 squares, 1 nonadjacent squares should be
elevated.
Preferred shelter: Dinosaur Burrow (DD).
Other liked items:
Waterfall Rock
Download Link:
http://www.mediafire.com/?rioas1evtlllo3q
Hashtags:
#Buitreraptor
#dinosaur
#extinct